What to Expect on Your First Visit
If you've never been treated by a chiropractor, you might be wondering what the experience will be like. It's normal to feel a little anxious, so our goal is to put you at ease right away.
Your first visit allows your chiropractor to get to know you, your health history as well as uncover the root cause of your concerns. Your consultation, spinal assessment and adjustments will all be done in private rooms. You will remain fully clothed for the duration of your visit, so we recommend you wear non-restrictive clothing to make it easier to move freely during your assessment.
approximately 40-45 minutes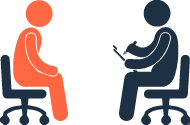 History
A conversation between you and your chiropractor about your symptoms and medical history.
Assessment
A thorough analysis of posture, movement of the spine, individual joint mobility, muscle length, muscle strength, neurological and orthopedic function.
Discussion
An explanation of the nature of the condition and an overview of the treatment options. An opportunity for you to ask any questions.
approximately 10-15 minutes

Update
A consultation to see how you are responding to care.
Assessment
A brief survey to specify adjustments. Full Re-assessments are completed at regular intervals.
Treatment
Tailored to the individual patient.
Advice and/or exercises
We show you what you can do to promote recovery and get the most of your care.